News
Food association drafts action plans.
---
19 March,2021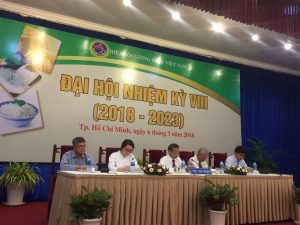 The Vietnam Food Association held its eighth congress in HCM City on March 6 to review its performance in the last term and set tasks for the 2018-23 term. — VNS Photo
Enhancing trade promotion and market research and providing information to businesses are among the tasks the Việt Nam Food Association will focus on in the next five years.
Speaking at the association's eighth congress in HCM City yesterday, Bui Thi Minh Tam, its deputy chairwoman for 2011-17, said despite a very difficult situation in the last few years, the association had managed to help exporters both buy rice from farmers and export.
"The global rice market has witnessed a great change in the last seven years, with production surpassing demand, leading to high inventories," she said.
Viet Nam's exports peaked in 2012 and then decreased, and global prices have also declined because of abundant supply and high inventories, she said.
The rice export structure has changed significantly, with shipments of low-value white rice going down from 83.72 per cent in 2011 to 40.74 per cent last year.
Exports of fragrant rice increased from 6.63 per cent to 29.2 per cent while sticky and Japonica rice shipments also increased strongly in the period, she said.
Deputy Minister of Agriculture and Rural Development Tran Thanh Nam said Vietnam was among the three largest rice exporters in 2011-17, exporting 5-7 million tonnes a year worth US$2.5-3.5 billion.
Last year exports jumped by 23.2 per cent to $2.66 billion, he said.
Besides producers and exporters, the association has also made great contributions to the sector's achievements by providing information and co-operating with authorities and businesses in building the Vietnamese rice brand, he said.
The food sector, including rice, is expected to face challenges in the coming years, including climate change, importing countries becoming self-sufficient, changes in rice import policies in Vietnam's key markets, and increase in trade barriers and quality requirements, he said.
"To sustain growth, the rice sector needs to restructure."
He said the association should co-operate with his ministry and localities to review zoning plans and match areas and popular rice varieties, create linkages in rice production, and persuade members to ensure quality and food safety.
The association should work with localities and members to continue the shift towards high-quality rice and ensure the use of advanced production and processing technologies to maximise value, he said.
It should continue to provide up-to-date production and trading information, strengthen market research and forecast to make timely recommendations to farmers and businesses, help enhance trade promotion, develop Vietnamese rice brands and organise trade fairs in the domestic and overseas markets, he said.
Quality, competitive prices and good brands are the key factors that would enable Vietnamese rice to penetrate more markets, he added.
The congress voted for 27 executive board members, with Nguyen Ngoc Nam, acting general director of the Vietnam Southern Food Co-operation, becoming the association's chairman for the 2018-23 term. — VNS
Credit: Vietnamnews
---